-
Ramallah – the world of the homeland
The Kuwaiti security services worked to "decipher the mystery of the murder case of a girl in Barr Al-Salmi," and the Kuwaiti Ministry of Interior announced in a statement, "the accused was found, arrested, and interrogated to find out the circumstances of the incident."
And the statement of the Ministry of Interior stated: "Within less than 24 hours…men of the criminal security sector were able to decipher the mystery of the murder case of a girl in Barr Al-Salmi, where the accused was reached and arrested, and an investigation is underway to find out the circumstances of the incident, and to take legal measures in this regard," according to what was said. He mentioned the website (Al-Saleh 14).
Kuwait witnessed a heinous crime, in which a Filipino expatriate was raped, killed and then burned, before the authorities succeeded in arresting the accused in record time.
The burnt body of an unknown woman was found on Al-Salmi Road in Kuwait, Saturday, and the inspection showed that she had also been smashed in the skull, which caused a sensation on social media.
-
By lifting the victim's fingerprints, it was revealed that she is a Filipina and has a case of absence. And the official Kuwaiti media reported that the accused is a "citizen", and he confessed to the incident during the investigations.
--
Examination and autopsy revealed that the victim was pregnant, and samples are currently being matched with the accused, according to the Kuwaiti newspaper, Al-Rai.
Investigations revealed that the perpetrator of the crime was a juvenile, who raped and killed the Filipino worker and then burned her body, according to Kuwaiti media.
Investigations are still underway to uncover the motives of the crime, which caused an uproar in the Kuwaiti street, and caused an uproar on the communication sites.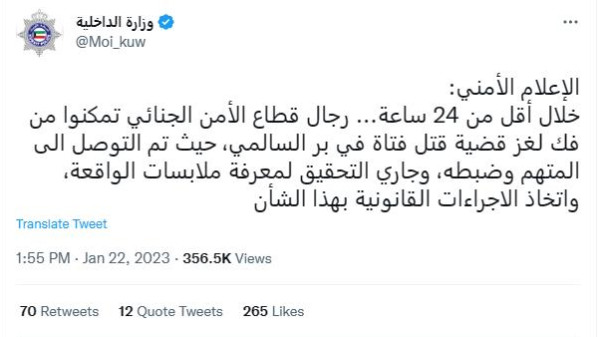 ---