Riyadh – Mubasher: The Saudi Ministry of Health announced today, Thursday, the registration of 46 new cases of the emerging coronavirus "Covid-19", compared to 47 cases
Yesterday Wednesday
, and 49 last Tuesday.
The total number of infections in the Kingdom, according to the daily report of the Ministry of Health on the developments of the Corona virus, has reached 548.11 thousand since the outbreak of the epidemic in March of the year 2020..
Critical cases decreased to 79 cases, compared to 84 cases yesterday, and 90 cases the day before yesterday.
The Ministry of Health recorded 54 new cases of recovery, bringing the total recovered cases to 537.15 thousand cases, representing a total recovery rate of 97.99.%.
The number of new deaths recorded as a result of infections with the Corona virus "Covid-19" during the past 24 hours reached 3 deaths, bringing the total deaths to 8,773 deaths..
The total vaccine doses granted by the Ministry since the start of the vaccination campaign exceeded the barrier of 44.95 million vaccine doses.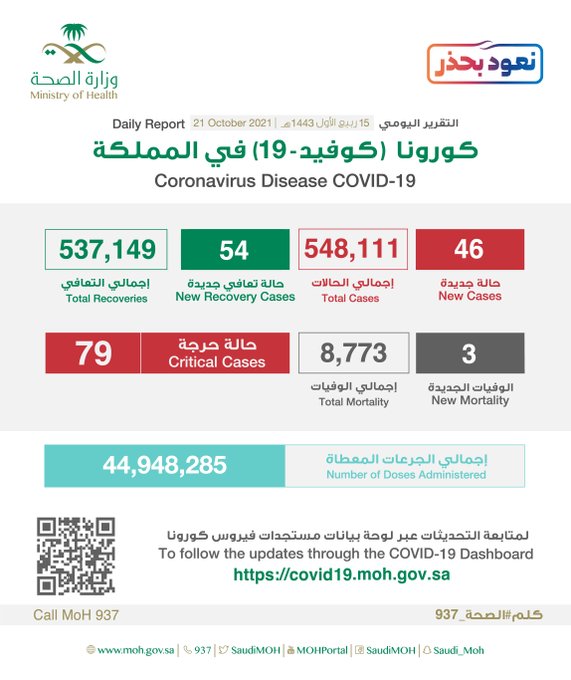 Recommendations:
Infographic.. Statistics of Corona injuries and recovery rates in the Gulf countries since the outbreak of the pandemic
Saudi grains depend on the purchase price of wheat from local farmers for the next season
The real estate price index in Saudi Arabia rose 0.5% in the third quarter, affected by residential lands
---
---
---
---