Riyadh – Mubasher: The Saudi Ministry of Health announced today, Wednesday, 54 new cases of the emerging coronavirus "Covid-19", compared to 69 cases
yesterday tuesday
, 63 last Monday.
The total number of infections in the Kingdom, according to the daily report of the Ministry of Health on the developments of the Corona virus, has reached 546,735 since the outbreak of the epidemic in March of 2020..
The number of active cases is currently 2,345, including 303 critical cases, compared to 317 cases yesterday.
The Riyadh region topped the regions in Saudi Arabia at the level of new infections with 13 injuries, followed by the Makkah Al-Mukarramah region with 11 injuries, then the Eastern Province with 7 injuries, while Al-Baha, the northern border and Tabuk were the lowest with one injury each..
The Ministry of Health recorded 61 new cases of recovery, bringing the total number of recovered cases to 535,711 cases, bringing the total recovery rate to 97.98 percent.
The number of new deaths recorded as a result of infections with the Corona virus "Covid-19" during the past 24 hours reached 7 deaths, bringing the total deaths to 8,679 deaths..
The total doses of the Corona vaccine given in the Kingdom reached more than 41.17 million doses.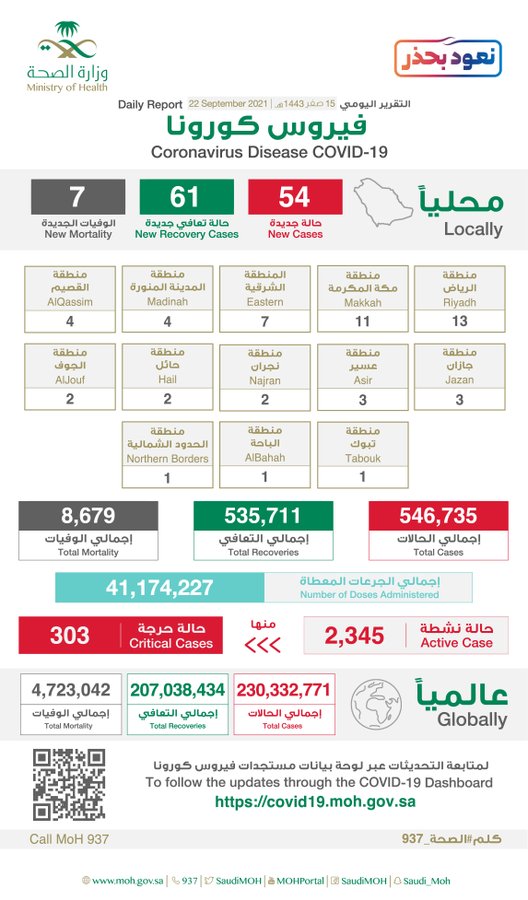 Recommendations:
The Saudi Minister issues 8 decisions in its weekly session headed by the Custodian of the Two Holy Mosques
Saudi Statistics: 91.8 billion riyals of merchandise exports in July… and the surplus jumps 327.7%
Infographic.. How have Saudi oil stocks evolved since the beginning of the Corona pandemic?
---
---
---
---