Riyadh – Mubasher: New Corona injuries in the Kingdom of Saudi Arabia continued to rise today, Thursday, for the fifth consecutive day, approaching the rate of 600 new infections.
And the Saudi Ministry of Health announced, according to its daily report on developments of the Corona virus in the Kingdom, that 590 new cases of the emerging corona virus "Covid-19" were recorded, compared to 585 cases yesterday, Wednesday, and 556 cases last Tuesday.
The rate of injuries began at the beginning of this week, recording 502 injuries on Saturday, but it headed up again on Sunday, with 531 new injuries and 541 injuries on Monday.
The total number of infections in the Kingdom reached 390,597 since the outbreak of the epidemic in March 2020.
The number of active cases currently stands at 5,452 cases, including 699 critical cases, according to the ministry.
The Riyadh region topped the regions in terms of new injuries with 238 injuries, followed by Makkah Al-Mukarramah region with 111 new injuries, while Al-Baha was the lowest with 3 injuries.
The Ministry of Health recorded 386 new recoveries, bringing the total of recovered cases to 378,469, bringing the rate of recovery in the Kingdom to 96.89%.
The number of new deaths recorded as a result of infection with the Coronavirus "Covid-19" during the past 24 hours has reached 7 deaths, bringing the total deaths to 6,676 deaths..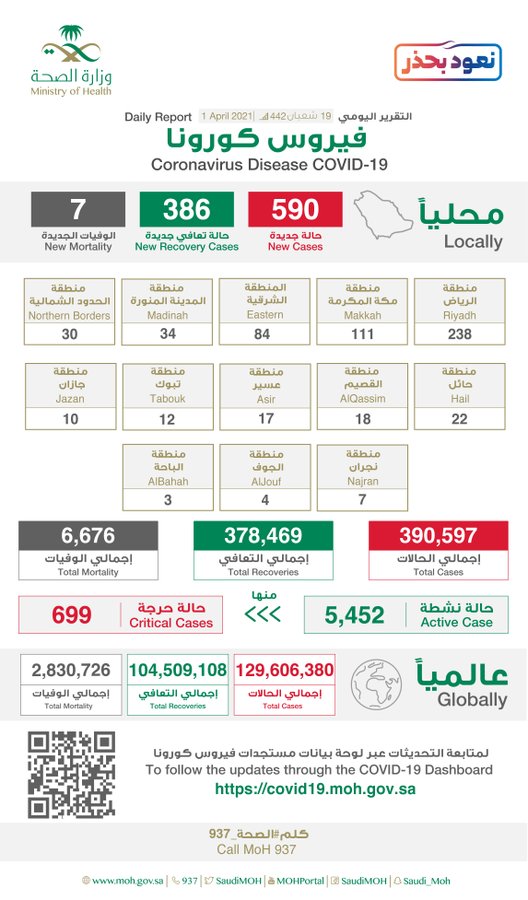 Nominations:
The Saudi Embassy in Cairo: Extending the validity of residencies and visas for residents outside the Kingdom
Saudi banks reduce their investments in government bonds by 8.2 billion riyals in February
Infographic … FDI inflows in Saudi Arabia for the last 5 years
---
---
---
---