On Monday morning, the star Sawsan Badr arrived in Alexandria, to film some of her scenes in the series "Bint Al Sultan", starring the star Rogina, directed by Ahmed Shafiq, and written by Ayman Salama, and the viewers gathered her with the heroine of the work, Rogina.
In the same context, the great artist Sawsan Badr flirtedIn the governorate of Alexandria, and the beauty of its sea and beaches, while she was in the Bride of the Mediterranean, and the great artist published, through her Instagram account, a picture of her from the balcony of a building overlooking the sea, accompanied by a comment: "It is reasonable to see the beauty of your movement, Alexandria, while a number of artists were keen. And the artists to comment on the picture, including the artist Hala Sedky, who commented, saying: "Medicine, we hit fish and crabs where" .. to Sawsan responds: "In every moment … as long as you walk, you crouch in a crab in the air like that.".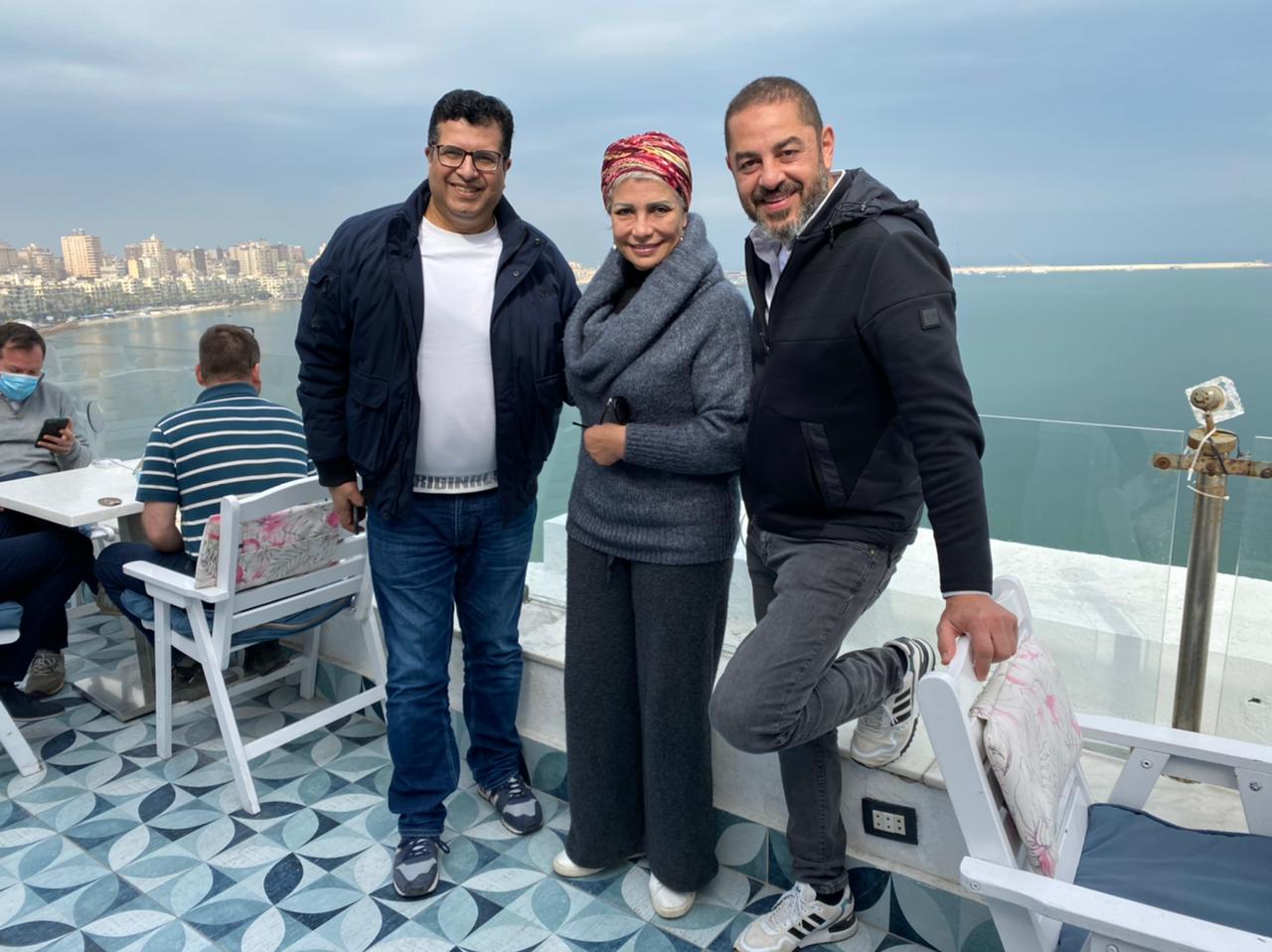 Sawsan Badr, Ahmed Shafiq and Ayman Salama
The star Mona Zaki also flirted with her, who commented, saying: "You are the moon" .. to which the great artist answered: "There is no one who is a moon but you." Hind Sabry, who commented: "Munawara .. Yalla go back" .. to respond to her: "I am .. I miss you."
It is noteworthy that the series "Bint Al Sultan" starring Rogina, Bassem Samra, Ahmed Magdy, Sawsan Badr, Bayoumi Fouad, Nada Musa, Muhammad Mahran, Mahmoud Hegazy, Noha Saleh, Hassan Abu Al Rawous, Utaka and a number of other artists are under contract with them, and it is written by Ayman Salama and directed by Ahmed Shafiq.
In the month of Ramadan, Rogina presented the series "Al-Prince" written and produced by Muhammad Sami, starring Muhammad Ramadan, Lebanese Nour, Ahmed Zahir, Naglaa Badr, Edward, Donia Abdel Aziz, Abdel Aziz Makhion, Reem Sami, Salwa Othman, Muhammad Alaa, Safaa Al-Toukhi, Mohamed Hatem, Rehab El-Gamal, Hazem Ehab, Ahmed Dash, written and directed by Mohamed Samy and produced by Synergy..
---
---
---
---