Thursday 16 July 2020


11:02 am

At exactly nine o'clock Thursday evening, Real Madrid and Barcelona will meet Villarreal and Osasuna, respectively, in the 37th round of the Spanish League Soccer (La Liga).
Real Madrid enters its match today topping the La Liga table with 83 points, followed by Barcelona in second place and 79 points, and the two games will be held at the same time (nine o'clock Cairo time), and given the difference in points between the league and summer leaders, if Al-Meringi decided to win the match today, the league title will be crowned in the form of Official regardless of the outcome of the Barcelona match.
As for Real Madrid faltering with a draw or loss, Barcelona has no way but to win the match today against Osasuna, in addition to the last round match against Alaves, while awaiting another gift from the royal team.
In turn, the Spanish newspapers have highlighted the position of "decisiveness" and considering that Real Madrid is the closest to crowning the title, so most of the talk was about what the royal team needs today against Villarreal.
Mundo Deportivo newspaper
The newspaper, known for its affiliation with Catalonia, said that Barcelona should win today's match against Osasuna, while waiting for Real Madrid to stumble at its stadium in order to postpone the decision of the League to the last round.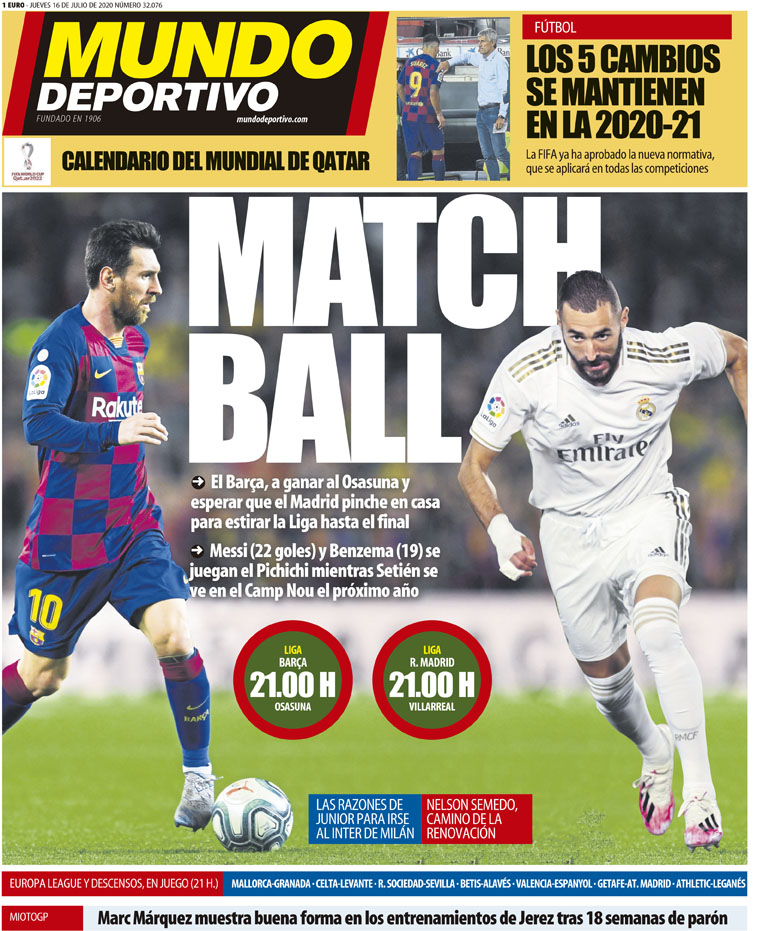 Marka
"Fighting to death," the Spanish newspaper Marca titled, on the cover of its magazine, issued today, Thursday, commenting on my matches today for Real Madrid and Barcelona.
The newspaper put a large picture of Real Madrid coach Zinedine Zidane with his players, while another photo of Barcelona was attached at the end of the cover to Barcelona and commented on it saying: "Barcelona .. winning and praying" in reference to the position of the Catalan team who will wait for Real Madrid to falter in their matches, provided that they win in The two rounds to win the local title.
Sport
"Barcelona is obligated to win over Osasuna and wait for Real Madrid to stumble against Villarreal, who is looking for a European card," the Catalan newspaper said.
A picture of the French striker Karim Benzema, Real Madrid player, in contrast, a picture of Barcelona's Lionel Messi.
Ass
Real Madrid defender Sergio Ramos appeared on the cover of the Spanish magazine, commenting: "Real Madrid is looking for a knockout."
She added: "Zidane's team will win the 34th title if they beat Villarreal."
---
---
---
---