Argentine Lionel Messi entered the star
Barcelona Spanish
In a dispute with the management of the Catalan club because of the recent desire to leave Brazilian Felipe Coutinho from the club this summer.
Coutinho joined Barca in January 2018 for 160 million euros, and after just a year and a half, the Bayern Munich club loaned him for a season with a clause allowing the Bavarian to buy him permanently for 120 million euros.
The Brazilian star did not offer Bayern Munich what he deserved to be paid by the club, so he decided to return to Barca with a strong interest in him being included by several clubs, most notably Chelsea and Tottenham.
Messi refused

The newspaper "Mirror" confirmed that the Argentine Lionel Messi, Barcelona star, rejects the issue of Coutinho's departure from the club, and believes that the latter has not yet got his full chance with the club.
According to the same source, Messi is of the opinion that if a player deserves to leave the club, it should be the French winger Othmane Dembele who has suffered injuries over recent years.
Liu believes that Coutinho would be beneficial to Barcelona, ​​especially since the player insisted on moving to the club more than two years ago without the desire of Liverpool and his coach Juergen Klopp, which they wanted to keep.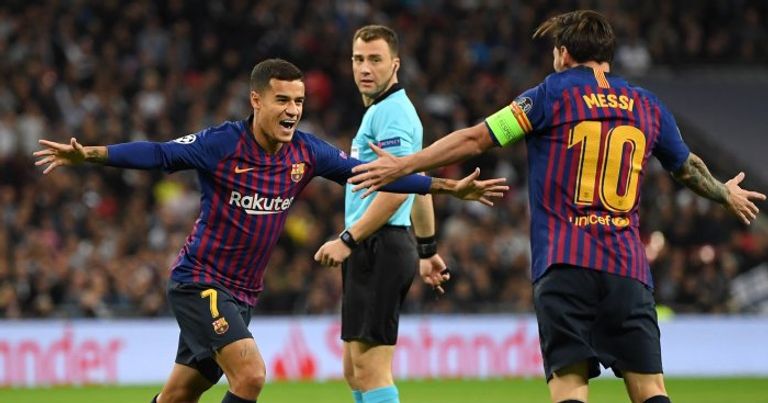 Messi was in contact with Coutinho before the latter joined Barcelona, ​​as the flea accompanied Uruguayan Luis Suarez to persuade the player to join the Catalan team.
Messi also feels that selling Coutinho will not be the best solution for the club, considering that the player may find himself with the new coach Kiki Seten, who depends on the method of possession and offensive playing.
Perfect timing
On the other hand, the newspaper confirmed that Barcelona is seeking to get rid of Coutinho in order to obtain sufficient financial support to make a strong deal during the summer Mercato.
She explained that the Barca administration is determined to contract with one of the duo Neymar de Silva or Lautaro Martinez to improve her image with the fans before her term ends in the summer of 2021.
She revealed that Barcelona feels that the current time is the best time to sell Coutinho, especially after there was fierce competition for his inclusion from several clubs including Chelsea, Everton, Arsenal, Leicester City and Tottenham.
This comes at a time when Messi and his Barca comrades announced their donation of 70% of their wages to the club after the emerging crisis of the Corona virus, which hit football in the world.
---
---
---
---