celebrate Alahli football club, On the occasion of the founding of the Red Club No. 113, with the participation of a photo on his official account on Twitter, today, Friday, including the heads of the Red Castle from its founding until the present moment, and I salute Al Ahly's account for this occasion by saying: "The glories and tournaments castle | From generation to generation, we are still completing the journey … Happy Birthday, our beloved club. "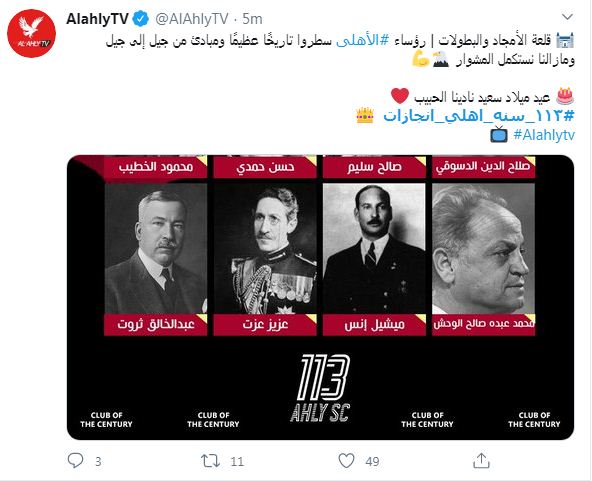 Al-Ahly celebrates the image of its leaders throughout history
In the same context, today, Friday, the fans of Al-Ahly Club in all parts of the Arab world celebrate the founding of the 113th Red Club, and the start was just an idea brought by Omar Lotfy Bey, president of the "High School Students Club", which is a national club that was established in 1905 with the aim of uniting Intellectuals from Egypt's resistance to the British occupation.
List of heads of Ahly
Then the scholar Omar Lotfy proposed the idea of ​​establishing a parallel sports club on a group of dignitaries in Egypt headed by a friend, age leader Mustafa Kamel. Indeed, everyone was enthusiastic about the idea and it was agreed to establish the Al-Ahly Club and meet to discuss the first steps of construction.
Throughout history, Al-Ahly club succeeded in writing its name in letters of gold between the Egyptian clubs, and even globally, with a large number of tournaments. Al-Ahmar was the king of its competitors, as the number of Al-Ahly tournaments reached 136 championships during 113 years.
Al-Ahly Club occupies the top of the 30 clubs that achieve the most championships in the world, surpassing all international clubs, according to the list published by the British newspaper Mirror, although the newspaper ignored more than 18 other championships won by Al-Ahly.
Al-Ahly page on Facebook also published a video to show the decisive goals in crowning the Red Team championships, with an opening speech by Mahmoud Al-Khatib, the club's president, talking about the character and spirit of the hero in the island's castle.
Al-Ahly's page commented on the video, "Good morning. Today we celebrate the 113th anniversary of our beloved club, 113 years of achievements, 113 years of tournaments every year, and you are the club."
---
---
---
---