Spread the star Ahmed Fahmy A photo on his personal account on Instagram, in which he wears the "glasses" of his wife here ascetic, looks somewhat strange, to return the ascetic to the image in a comment saying: "My glasses, my forbidden."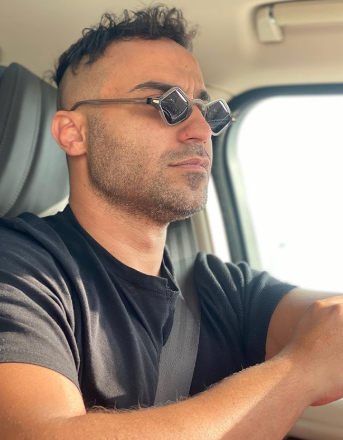 On the other hand, Fahmy congratulated the two stars on the spring and Mustafa Khater on their series "Omar and Diab" scheduled to be shown next Ramadan, and described the duo as "the kings of comedy".
In a related context, Fahmy will compete in the upcoming Ramadan race in the series "Rajala Al-Bayt", with the participation of Akram Hosni, and they finished filming 20 full episodes of the series, and they are working to film the remaining episodes to complete them completely during the days of Ramadan, and "Rajala Al-Bayt" is one of the expected works This year due to his comedic and dual nature, Fahmy and Akram, which has achieved great success in the past years, whether in the cinema or drama.
The series "Men's House" is set in separate continuous episodes that suit the nature of comic works, and depends on the two champions Ahmed Fahmy and Akram Hosni, in addition to the participation of Wazzo, Bayoumi Fouad, Arfa Abdel Rasoul and Lotfy Labib, with the emergence of many artists as guests of honor, most notably Ayten Amer that appeared in Promo Work in addition to other names that appear in the episodes.
"Men of the House" events revolve around a two-man comic frame, Timon and Pumba, who have responsibilities and a large family, where they live with their grandfather and the rest of the family in the same house, but the situations persist through episodes, which prove that they are far from taking responsibility and all of this in a framework comic.
Ahmed Fahmy and Akram Hosni will return to work together in the TV drama after he presented "The Wind of Madame" in 2017, and the work achieved a remarkable success, and the duo managed during the past years to provide a successful duet in cinema and drama, where the beginning was with the movie "My Dog Country" which was the first acting experience for Akram Hosni, and after that, Akram appeared as a guest of honor with Fahmy in the movie "Al-Kwaisin" and also the series "Al-Wad Sayed Al-Shahat", and also Fahmy appeared as a guest of honor with Akram in his series "The Will".