<
div id="articleBody">
Celebrated Yara Naoum, the former Miss EgyptAfter her ninth marriage to Al-Ahly star and the former national team of Egypt, Imad Miteb, she published a picture of their gathering, which holds a candle, and said in her comment on the photo: "Happiness in marriage is a moment of choice … a moment of decision to love, forgive, grow and grow old while remaining young in your heart ".
Yara and Miteb used to congratulate each other on the occasion of their wedding anniversary via their pages on the Social Media, so last year, Imad Miteb, the Egyptian national team striker and the former Al-Ahly Club, had published a new picture through his account on Instagram, through which he sent congratulations to his wife, and Emad Miteb appeared In the photo, accompanied by his wife, Yara Naoum, as they were celebrating their wedding anniversary, Imad Miteb commented on the photo: "Happy wedding day, and may God bless you."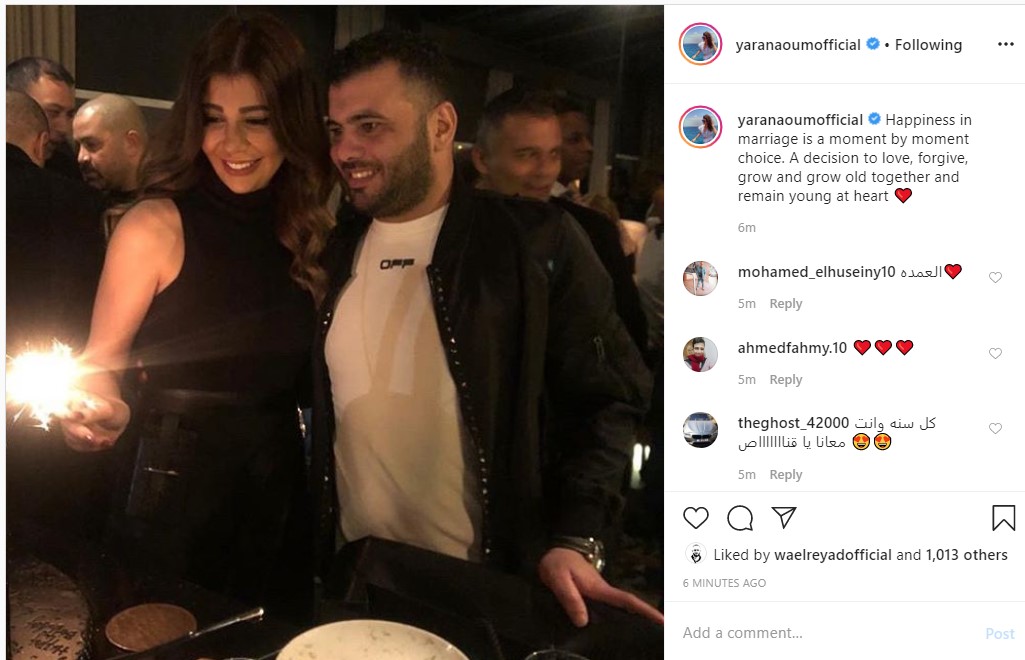 In February 2020, Yara Naoum congratulated the former Miss Egypt, her husband Emad Miteb, the Al-Ahly player and the former Egypt national team, on the occasion of his 37th birthday, when she published – at that time – a group of photos that brought them together via her Instagram account, hanging on them in a way that combined romance and lightness.
Yara commented on the photo, saying, "Happy birthday to the player, fishing addict, and Mr. Quakzza El Pul .. We have gone through a lot, but one way or another we have skipped it … I will never regret spending a life with many wonderful adventures with you", and she continued, "Thank you for everything … Including my faults, and thank you for all the wonderful things that you have given me, especially for our children … and after a million years, I am base on your heart until the ninetieth. "
Imad Miteb is considered one of the most influential players in the history of Al-Ahly and the Egyptian team, where Al-Ahly sniper has a history that is difficult to forget after becoming one of the most famous goalscorer in Egyptian football throughout its history thanks to a series of deadly and beautiful goals, which Mouteb has achieved throughout his career, whether with the Al-Ahly club or the national team or when Professional in the ranks of the Saudi Saudi Federation.
Imad Miteb won 25 local, continental and international championships with Al-Ahly, including the general league championships, the African Champions League and the Club World Cup bronze, and Mutaib crowned the Pharaohs with three championships for African nations in 2006, 2008 and 2010.
Imad Miteb won the title of top scorer in the 2004/2005 season with 15 goals in his first seasons with the first team, to write his name in letters of gold in the Egyptian football memory, and he participated in Al-Ahly's shirt in "320" games, during which he scored "126" goals, and he occupies the position The second in Al-Ahly's scorer list in the Zamalek window scored 10 goals in 6 games.