Ashraf Sobhy, Minister of Youth and Sports, congratulated the Egyptian handball men after arriving at the final of the African Nations Championship through his personal page on the social networking site Facebook, saying: "Thank God, victory over the Algeria team and reaching the final Sunday, oh Lord of goodness and victory for Egypt."
He won Egypt national handball team On his Algerian counterpart, 30/27, within the framework of the semi-finals of the African Nations Cup hosted by Tunisia and qualified for the Tokyo Olympics 2020. Egypt, the winning handball team from Tunisia and Angola, is waiting to meet him in the final.
The quarter-finals saw Egypt's handball team beat Gabon 36/17, before defeating Angola 33/26 in their second meeting to qualify for the semi-finals as the first group to face Algeria after receiving a rest on Thursday.
Egypt succeeded in achieving the complete mark in the first round by defeating Guinea 39/22, then Kenya 44/19, and finally the Democratic Republic of the Congo with a score of 28/19. He won the title of best in the Kenya match, while Mohamed Mamdouh Hashem won the title of best player in the match between Egypt and Gabon in the quarter-finals.
The competition will take place in the same system of the World Cup for adults, which was held last year in Denmark and Germany, with 8 teams qualifying from the first round to the quarter-finals with points of direct confrontation divided into two groups, where Egypt succeeded in ensuring qualification to the semi-finals early with him and Angola.
The list of players includes: Karim Hindawi, Issam Al-Tayyar, Mohamed Ali for the goalkeeping, and each of Muhammad Sanad, Akram Yousry in the center of the right wing, Ahmed Al-Ahmar, Yahya Khaled and Mohsen Ramadan in the right-back center, Ahmed Khairi, Saif Al-Daraa and Ahmed Hisham Al-Sayed in the playmaker center.
Yahya Al-Deraa, Ali Zain and Hassan Kaddah live in the center of the left-back, Omar Bakkar and Ahmed Moamen in the center of the left wing. In the center of the circle, the coach chose 5 players: Ibrahim Al-Masry, Mamdouh Hashem, Wissam Nawar, Ahmed Adel and Khaled Walid, while the mission is headed by Moamen Safa, the treasurer of the Federation.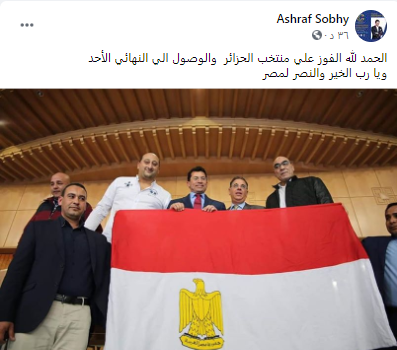 ---
---
---
---